How to Follow Up in 3 Simple Steps
Compose a Template
Tip: A generic template is pre-written in the app. DUPLICATE, ITERATE and CREATE an unlimited number of Email templates for FREE.
Scan an(y) Email Address
Use the Unlimited & Free Business Card Scanner. Tip: Stable, Lighting, Focus, Card Design (Fonts/Size) are all factors in successful OCR scans.
Draft Email Ready!
Awaiting in your native Email app on your device. Tip: EDIT further, SAVE for later (it's already a draft) or just SEND.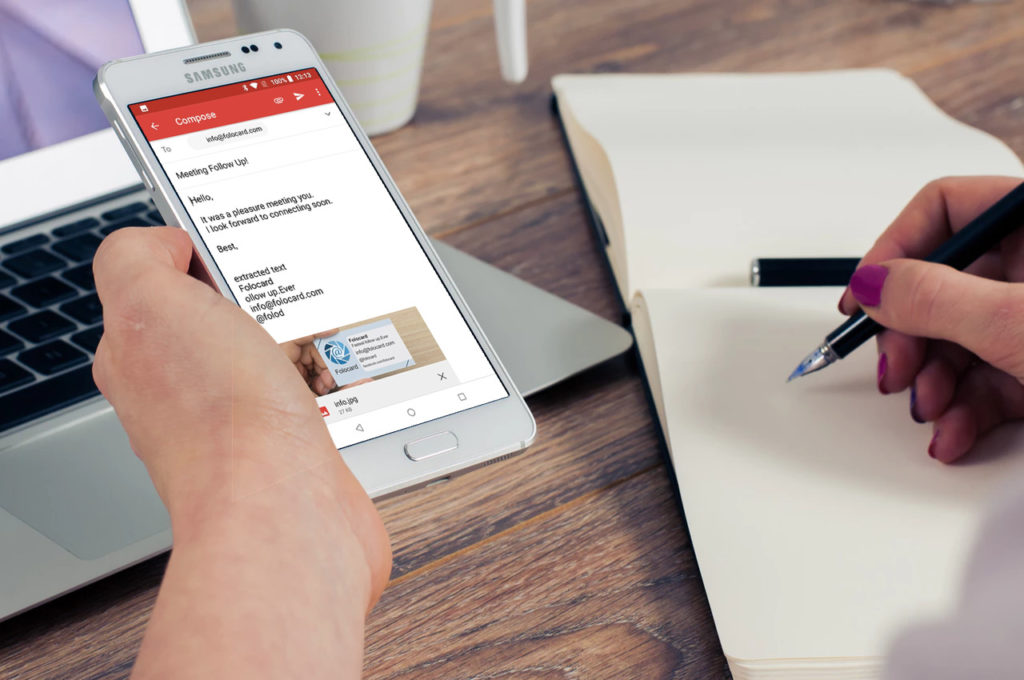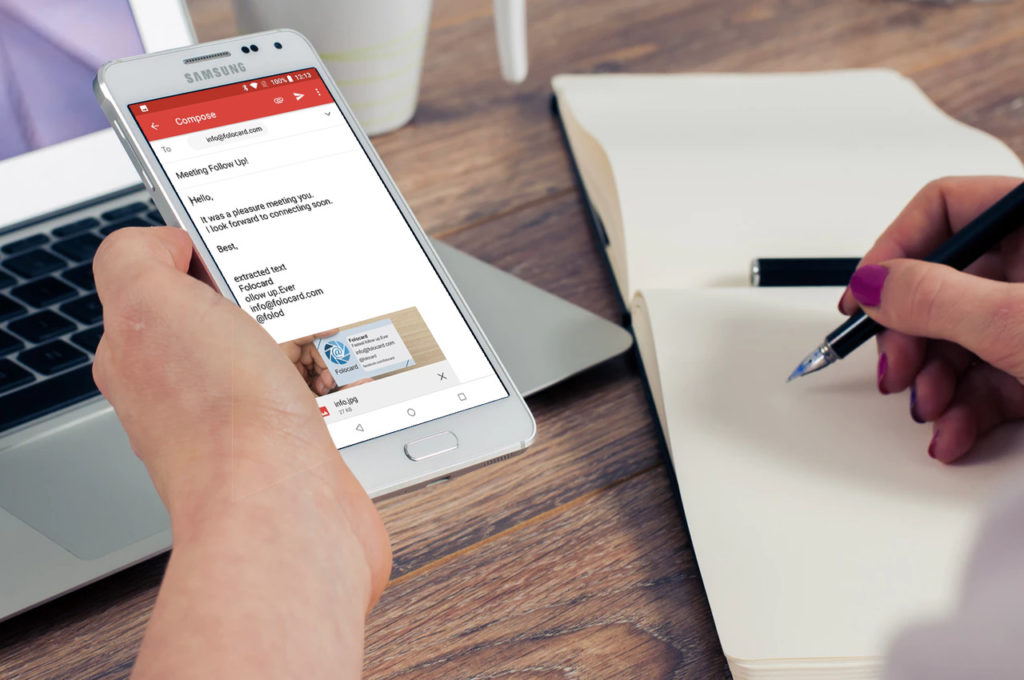 A Novel Approach to Follow Ups
Least Click Approach
Designed for the mobile user. Automation is the game and now you can get more done in less time!
Immediate Follow-ups
While your peers follow-up days later, your first email follow-up is out within seconds. Complete with subject, body and attachments.
Templates Galore
Have a template for any scenario. Prepare ahead of conferences, meet-ups and other social networking events.
Vote for Change
Folocard was born out of the frustration of business card follow-ups back at the office after a major conference. Issues with too many business cards to handle, the time lapsed from the meeting, the context, the topics, the opportunity. Other business card solutions are great for silo'd contact management, but not for taking actual and immediate action. Folocard is here to usher in a new business card etiquette.
Folocard lite is a mobile email templating engine designed for speedy follow-ups. You compose your template, scan a business card and click to confirm the recipient email. Now a draft is ready for sending in your NATIVE email app. Since Folocard Lite is a Progressive Web App, you do NOT need to download an app. Just visit app.folocard.com
Productivity Booster
You can do this on your laptop, sure. But now you can do it on your phone, on the go, with one thumb, fast and useful. How fast can you go? How many leads can you follow-up on? Push down the sales pipeline faster by reaching deeper into the funnel early.
Endless business cards, and a new generation that is avoiding the old trait. Folocard has you covered. Scan a business card to extract the text you need for your email template. Or just hand your phone to your new contact and have them enter their email. Your email will be sent from YOUR NATIVE email client - not some 3rd party email service that will confuse and/or land in the spam folder.
Context By Speed
Can't remember all you discussed with people you have their business cards, or in your notes? Just follow-up by email immediately and shift the mind load onto them. You will get the chance to add a note so you won't miss a thing.
Make one for any scenario. Set Subject, Body and attach different contact files and images.
Using the same Machine-Learning algorithems used in Google Photos, your Optical Character Recognition results are best in class.
Use CC/BCC, Use HTML (email app dependent), Crop Scans, Build Contacts, Auto Save Contacts, Use GeoTags and more.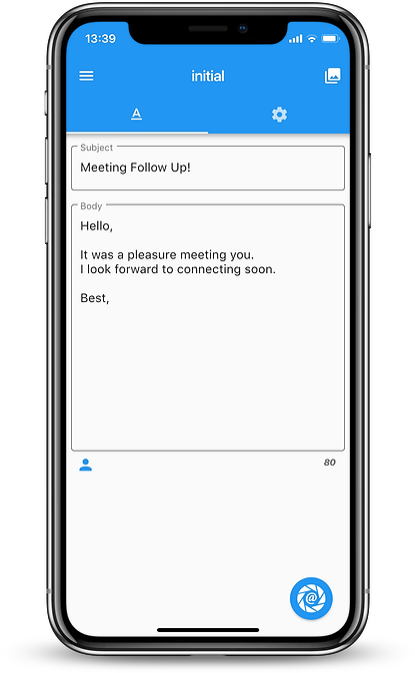 User selectable settings to control your follow-up workflow. Send now or later, review results or #justfollowup already.
Other apps may try to silo your contacts, we just encourage you to make that first follow up. You already have a CRM on your phone – it's called your contacts (or address book).
We do not send the content of your email templates to our servers, it is local to the device. We do not send the business card scans to an external service.
Following Up is for EVERYONE!
Job Applications
Exited an Interview? Wow your recruiter with a pre designed follow-up covering your achievements and goals.
Sales Representatives
Outreach is a game of numbers, increase your odds by building faster relationships. You will be surprising your prospects and your peers!
Conference Heros
Frequent conference attendies know this all too well. Hundreds of business cards that mostly go to trash. Increase your odds at secondary meetings DURING the event such as invites to exclusive after hour cocktail parties.
Entreprenuers
Constantly meeting new people, Folocard is your perfect growth hacking productivity app. #alwaysfollowup
Real Estate Agents
The market is more competitive than ever. Get the edge you need by building that personal relationship faster. This here is a tool for closers.
CXO's
Get your business development operations the opportunities they deserve by relieving them of data entry. Excel at the human to human level.